The Strata Tower, a forty-story luxury residential building .'Strata Luxury Tower.'Designed by architects Hani Rashid and Lise Anne Couture of Asymptote.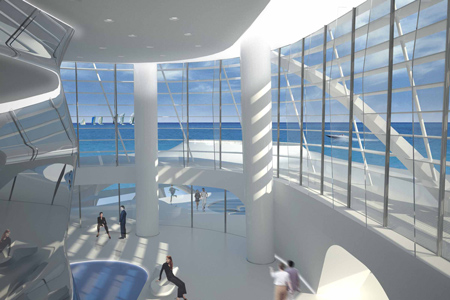 Standing 160 meters high, the tower would be the tallest building in the Al Dana precinct, positioned in the heart of Aldar Properties PJSC's prestigious Al Raha Beach development. The showcasing of the project is exhibited at Cityscape Abu Dhabi till 15 May 2008. It stands high indicating the decorous future for the Abu Dhabi and the neighboring province.
Its corporeal existence is arresting as it encapsulates the meaning through conceptual form, which is drawn from both motifs and narrow cultural scenery along with forces of universal authority. Its blueprint employs the arithmetical means to attain a highly relevant construction for UAE.
This revolutionary erection would be the result of numerous influences together with state of the art sophisticated parametric modeling tools and factors counting economies of fabrication and ecological sustainability. The intelligent-loooking estate is due to the usage of computer modeling tools. This exoskeleton shrouds the entire tower in an iridescent curved form set against Abu Dhabi's neighboring desert and sea.